Are you Secure?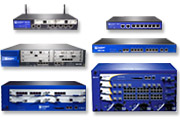 Complete line of firewall / VPN solutions for enterprises and service providers


Tightly integrated set of best-in-class security applications to protect against Worms, Trojans, Viruses and other malware


Multiple management mechanisms including complete CLI, WebUI or centralized management facilitate rapid deployment while minimizing ongoing operational costs
( Ask yourself the following.)
How are you protecting your branch offices, knowing that attackers successfully target the weakest link?
Many customers have seen an increase of internal attacks – both unauthorized access as well as viruses, etc. brought in from home. Are you seeing similar trends?
What security standards have you set for compliance and how are you enforcing these at the branch?
Are you concerned that your branch office routers do not have sufficient performance when a full suite of security features (Firewall, VPN, intrusion prevention, anti-spam, anti-virus, content filtering) is enabled?
Are you using IP telephony, and do you have plans to push that out to the branch as a way to drive down your phone bills?
Are you looking to roll out a new application across the WAN without upgrading WAN capacity?
Have you recently rolled out a new application that is performing poorly across the WAN?
Are file transfers across the WAN unacceptably slow?
How many servers do you have? Do you want to reduce the number of servers you have and increase server capacity?
Do you have any performance problems with your web applications?
What are you currently using to provide secure access for remote or traveling employees now?